Market Outlook
According to Future Market Consulting analysis, Global Hydrogen Generator Market size was valued at USD 161.01 Billion in 2021 and is projected to reach USD 262.35 Billion by 2030, growing at a CAGR of 10.14 % from 2022 to 2030.
currently, hydrogen production from low-carbon energy is expensive, the deployment of hydrogen infrastructures is slow, preventing widespread adoption, and several rules now hinder the growth of a clean hydrogen economy. Today, hydrogen is used on a large scale, but it is largely extracted from coal and natural gas. Hydrogen generation produces annual CO2 emissions of 830 million tons, mainly from the chemical and refining industries. That is the same as the total yearly CO2 emission of the UK and Indonesia.
Emission reductions from conventional hydrogen production is difficult, but it also offers an opportunity to broaden the global scale of clean hydrogen. Another way is to collect and store or use the CO2 produced by the creation of hydrogen from fossil fuels. There are now numerous industrial facilities using this technology across the world, and more are on the way, but a far huge amount is required to have a substantial impact. Another solution is for industry to secure more hydrogen supply from sustainable electricity. Over 200 projects have commenced operations in the last two decades to transform water and electricity into hydrogen in order to reduce emissions from transportation, natural gas consumption, and industrial sectors, or to enable the infusion of renewable into to the energy system.
Another significant challenge is to increase the utilization of sustainable hydrogen in other industries, such as vehicles, trucks, steel, and building heating. There are approximately 11,200 hydrogen powered vehicles on the road today. Current government projections states that this figure will skyrocket up to 2.75 million till 2030. Recent technological breakthroughs in solar PV, wind, batteries, and e - mobility have demonstrated that policy and technological innovation can develop global clean energy markets.
Market Dynamics
Drivers
Increasing regulations on emissions of greenhouse gases and decarbonization.
Rising necessity for efficient hydrogen generating methods, resulting in increased R&D spending.
In the automobile sector, there is an increasing requirement for hydrogen as a fuel cell.
Challenges
Production & storage cost is high for some of production methods.
Presence of alternative energy sources which are less costly.
Opportunities
Government spending on producing hydrogen in each region is being increased.
Many organizations and businesses throughout the world are aiming for net zero emissions by 2050.
Report Attributes

Details

Market Size Value In 2021

USD 161.01 billion

Revenue Forecast In 2030

USD 262.35 billion

CAGR

10.14% from 2022 - 2030

Base Year

2021

Historical Data

2017 - 2020

Forecast Period

2022 - 2030

Segments Covered

By Source (Natural Gas, Coal, Biomass, Water);

By Type (Blue, Green, Gray);

By Technology (Steam Methane Reforming, Partial Oxidation, Coal Gasification, Electrolysis);

By Application (Petroleum Refinery, Ammonia Production, Methanol Production, Transportation, Power Generation, Other Applications);

By Delivery Method (Captive, Merchant);

Regional Scope

North America (US, Canada, Mexico);

Europe (UK, Germany, France, Italy, Spain, Rest of Europe);

Asia Pacific (China, India, Japan, South Korea, Rest of Asia Pacific);

Middle East & Africa (GCC, South Africa, Rest of Middle East & Africa);

South America (Brazil, Argentina, Rest of South America);

Key Companies

Air Products and Chemicals Inc., Athena Technology, Chromservis SRO, Cummins Inc., EPOCH Energy Technology Corp., Chromatec SDO JSC, Air Liquide SA, Linde Plc, LNI Swissgas SRL, Matheson TRI Gas Inc.
Key Players
Air Products and Chemicals Inc.
Athena Technology
Chromservis SRO
Cummins Inc.
EPOCH Energy Technology Corp.
Chromatec SDO JSC
Air Liquide SA
Linde Plc
LNI Swissgas SRL
Matheson TRI Gas Inc.
Segment Insights
Gray hydrogen, which has a lower production cost than blue and green hydrogen, accounts for the majority of the market. In 2021, Gray Hydrogen held the biggest market share. It is predicted to dominate the market between 2022 and 2030.
According to the source, natural gas will have the highest share in the market in 2021 and will rise tremendously in the future years. Coal is second largest market in 2021, with a considerable market share.
According to technology, electrolysis will be the most emerging technology for hydrogen generation and will be widely used in the future. As a result, electrolysis accounted for a large market share in 2021, and this trend is expected to continue in the future.
Based on Application, market is segmented based upon Petroleum Refinery, Ammonia Production, Methanol Production, Transportation, Power Generation, Other Applications. Due to the growing demands for carbon reduction in the transportation industry, the Transportation segment is expected to be the fastest expanding segment in 2021.
Parameter

2018

2021

2030

Global Revenue

(USD MN)

XX.XX

XX.XX

XX.XX

Geographic Share

(% Revenue Basis)

North America: XX%

Europe: XX.XX%

Asia Pacific: XX.XX%

Latin America: XX.XX%

Middle East & Africa: XX.XX%

North America: XX%

Europe: XX.XX%

Asia Pacific: XX.XX%

Latin America: XX.XX%

Middle East & Africa: XX.XX%

North America: XX%

Europe: XX.XX%

Asia Pacific: XX.XX%

Latin America: XX.XX%

Middle East & Africa: XX.XX%

CAGR (%)

XX.XX%

XX.XX%

XX.XX%
Recent Developments
March'22 – Air Products, Inc. has declared it will construct and manage a green liquid hydrogen production unit in Casa Grande, Arizona. It will be a zero-carbon liquid hydrogen facility that will enter service in 2023.

Jan'22 – Linde Plc has signed a contract with Yara to build and operate green hydrogen plant with capacity of 24MW.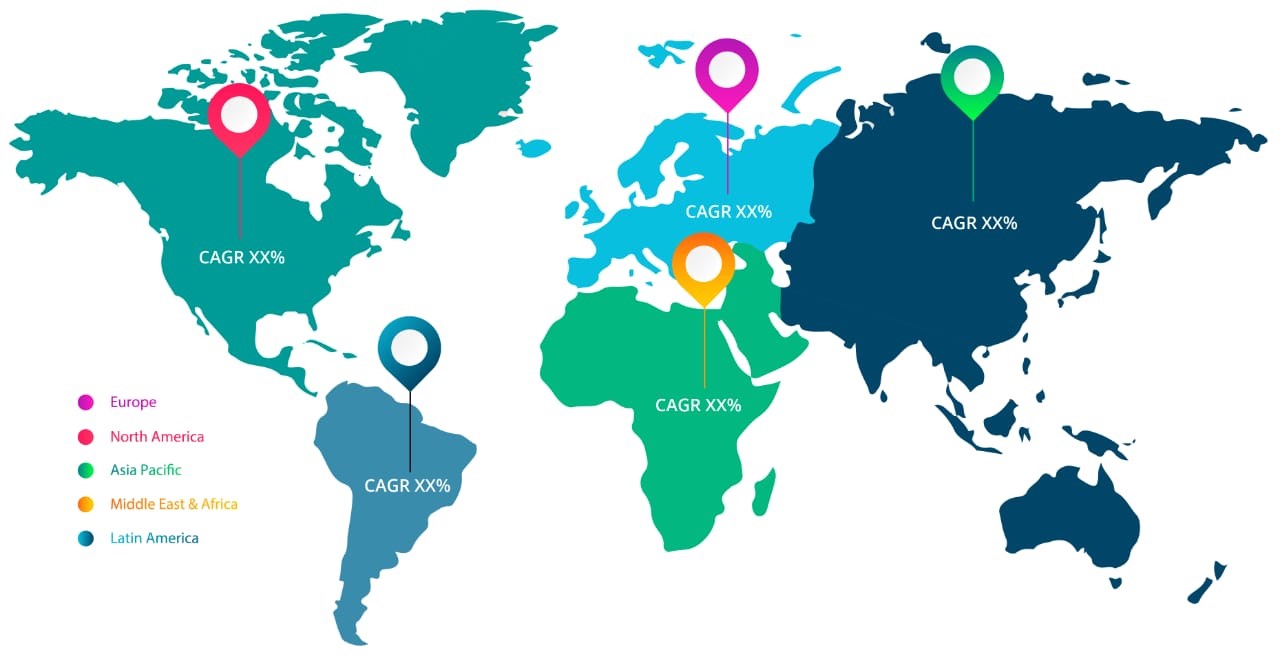 Regional Insights
Due to an increase in fuel cell-based EVs and hydrogen consumption in the region, Asia Pacific is expected to have the biggest share in the market for hydrogen generators in 2021. In the Asia-Pacific region, China had the most significant market share. China is experiencing an increase in hydrogen consumption from refinery and fuel-cell vehicles, which is projected to drive market growth.
Segmentation
By Source
Natural Gas
Coal
Biomass
Water
By Type
By Technology
Steam Methane Reforming
Partial Oxidation
Coal Gasification
Electrolysis
By Application
Petroleum Refinery
Ammonia Production
Methanol Production
Transportation
Power Generation
Other Applications
By Delivery Mode
By Region
North America (US, Canada, Mexico);
Europe (UK, Germany, France, Italy, Spain, Rest of Europe);
Asia Pacific (China, India, Japan, South Korea, Rest of Asia Pacific);
Middle East & Africa (GCC, South Africa, Rest of Middle East & Africa);
South America (Brazil, Argentina, Rest of South America);