Market Outlook
According to Future Market Consulting analysis, Global Heat Pump Market size was valued at USD 54.95 Billion in 2021 and is projected to reach USD 87.88 Billion by 2030, growing at a CAGR of 9.42 % from 2022 to 2030.
Residential, Industrial & Commercial places, all depend on energy as a power supply. However, its generation and utilization lead to a sizable amount of carbon gas emissions. Therefore, in order to reduce greenhouse gas emissions, major economies around the world are progressively shifting away from non-renewable sources of energy and towards renewable ones.
A potential method for reducing greenhouse gas emissions is heat pump technology. Geothermal and aerothermal heat pumps provide a room heating method that is energy-efficient. When incorporated into HVAC (heating, ventilation, and air conditioning) systems, the heat pump is frequently viewed as a sustainable device. Heat pumps are commonly used for air conditioning, space heating, and water heating in the domestic, commercial, and industrial sectors. Huge thermal energy stores exist in both the air and the ground. Heat pumps use energy intake, primarily electricity, to raise the temperature while extracting natural warmth from the atmosphere and low-temperature surfaces. The heat pump has the capacity to capture 77% of the electrical power in the air. Therefore, compared to other heat transfer methods, the use of heat pumps can significantly reduce the usage of fossil fuels, thereby reducing the carbon footprint. All sectors are installing more heat pumps as a result, which is boosting market development.
Over the past few years, governmental support for heat pumps as an essential tool for heat decarbonization has increased in a number of different nations. In 2021, there were 190 million heat pumps in use in buildings globally. Over the last few years, the worldwide supply of heat pumps has grown fairly steadily, especially in the main heating markets of North America, Europe, and the north and eastern Asia. Sales of heat pumps experienced record-high growth in 2021, particularly in Europe, China, and the United States. Despite supply chain challenges, 2022 is also exhibiting early indications of positive growth. Energy security, in particular in the European Union, is an important factor for heat pumps outside of climate goals, with increased policy focus in 2022. Reversible heat pumps are used to meet an increasing need for space cooling, which also contributes to the implementation. However, only about 10% of the world's building heating needs are still met by heat pumps, falling short of the implementation level needed to keep up with the net-zero emission by 2050 Scenario. According to this scenario, the number of heat pumps worldwide will hit 600 million units by 2030, meeting at least 20% of the world's heating requirements. To decrease upfront buying and installation expenses, remove obstacles to complicated renovations, enhance energy efficiency and durability, and fully utilize the potential of heat pumps as a facilitator of electrical system integration and flexibility, more policy encourage and technical innovation are required.

Market Dynamics
Drivers
The key factors influencing the market are the rising demand for affordable, environmentally friendly cooling and heating systems, the rising customer demand for climate control in homes and businesses, and government initiatives to support green heating and cooling and cooling technologies in order to combat global warming.
Challenges
There is a dearth of technical knowledge among end users in developing and underdeveloped countries, as well as understanding of the energy conservation, cost effectiveness, and environmental benefits linked to heat pumps. Their rate of penetration in emerging economies is predicted to be hampered by this aspect.
Opportunities
Suppliers are working to offer the equipment along with a system for managing energy to run every component in the most effective manner, balancing power and capacity without sacrificing comfort. Integrated heat pumps and energy storage systems are currently on the market.
Key Players
Trane Inc. (Trane Technologies)
Midea Group
NIBE Group
Panasonic Corporation
Mitsubishi Electric Corporation
Daikin Industries Ltd
Stiebel Eltron GmbH & Co. KG (De)
Glen Dimplex Group
Viessmann Werke GmbH & Co. KG
Flamingo Heat Pumps (Flamingo Chillers)
WOLF GMBH (ARISTON GROUP)
Efficiency Maine
Report Attributes

Details

Market Size Value In 2021

USD 54.95 billion

Revenue Forecast In 2030

USD 87.88 billion

CAGR

9.42% from 2022 - 2030

Base Year

2021

Historical Data

2018 - 2020

Forecast Period

2022 - 2030

Segments Covered

By Type (Air-to-Air heat pump, Air-to-Water heat pump, Water Source heat pump, Ground Source (Geothermal) heat pump, Hybrid heat pump);

By Capacity (Up to 10 kW, 10 – 20 kW, 20 – 30 kW, Above 30 kW);

By Refrigerant Type (R410A, R407C, R744, Other Refrigerants);

By Application (Residential, Commercial, Industrial);

Regional Scope

North America (US, Canada, Mexico);

Europe (UK, Germany, France, Italy, Spain, Rest of Europe);

Asia Pacific (China, India, Japan, South Korea, Rest of Asia Pacific);

Middle East & Africa (GCC, South Africa, Rest of Middle East & Africa);

South America (Brazil, Argentina, Rest of South America);

Key Companies

Trane Inc. (Trane Technologies), Midea Group, NIBE Group, Panasonic Corporation, Mitsubishi Electric Corporation, Daikin Industries Ltd, Stiebel Eltron GmbH & Co. KG (De), Glen Dimplex Group, Viessmann Werke GmbH & Co. KG, Flamingo Heat Pumps (Flamingo Chillers), WOLF GMBH (ARISTON GROUP), Efficiency Maine
Segment Insights
According to heat pump type, the market for water source heat pumps is expanding at the quickest rate. The primary market-driving element for these heat pumps will be their exceptionally high operating efficiency in comparison to other heat pumps. A water source heat exchanger converts the thermal energy of the water into heat. The primary benefit of a water-based heat pumps is that it can run on water that is colder than the surrounding air.
The market's largest share belongs to the R410A section, followed by the R407C segment. The system efficiency grade can increase with the use of R410A refrigerant. Additionally, using R410A to refill the system is less costly. The R410A refrigerant section of the market is anticipated to experience growth over the forecast period due to its minimal impact on the ozone layer.
In 2020, the segment with rated capacities up to 10 kW held a 47.5% portion of the market. The up to 10 kW category is anticipated to be driven by the significant benefits and suitability for storing-family residential homes, which will subsequently boost demand for heat pumps throughout the forecast period.
Recent Developments
April'22 - Daikin declared its backing for the REPowerEU, whose objective is to increase the number of heat pumps installed from 10 million to 30 million in 2030. Further connecting this to residential decarbonization is the movement's potential to assist the European Union in meeting its 2050 residential sector decarbonization objectives.

Nov'22 - A cascaded air-sourced heat pump made by Mitsubishi can generate heat at a rate of 7.8 kW to 640 kW. Without the use of boost warmers, a heat pump can produce hot water up to 70 C. This air source heat pump was made available by Mitsubishi Electric for use in commercial settings like schools and clinics.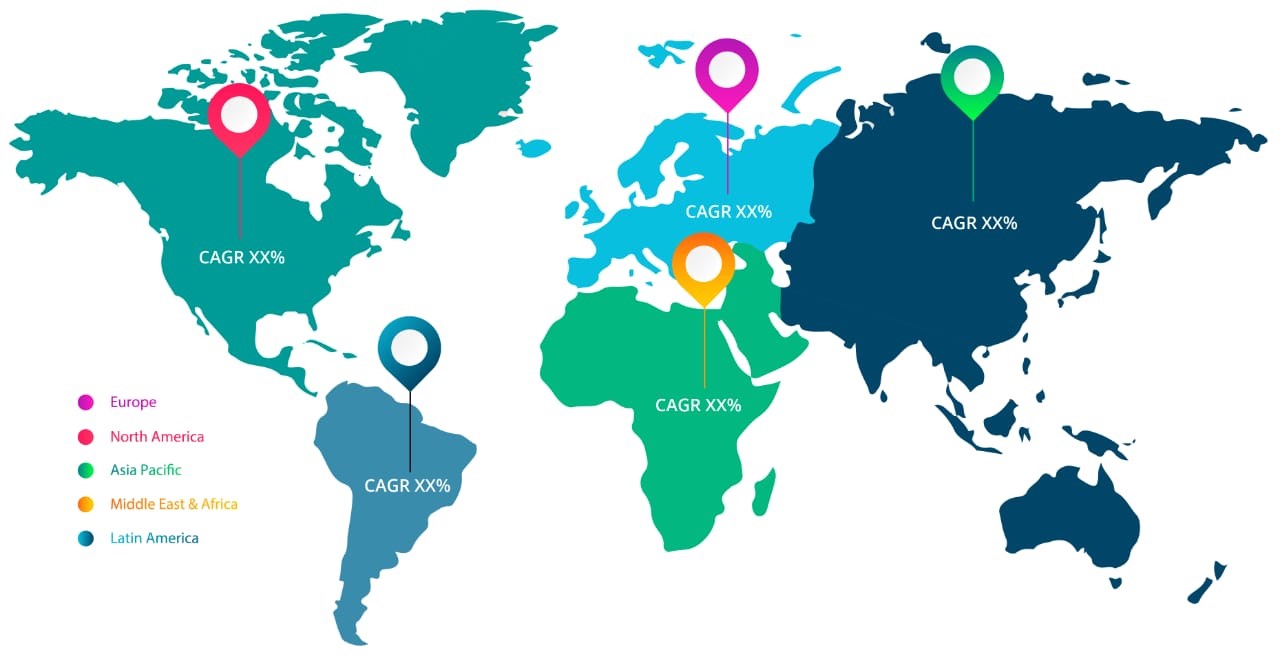 Regional Insights
The heat pump industry is predicted to be the largest in the Asia Pacific region, which is followed by the region of North America. Government-led efforts to lessen air pollution brought on by traditional sources of power utilized for heating in the commercial, industrial, and residential markets are anticipated to fuel the development of the North American market.
Due to the government's initiatives to promote improved energy-efficient structures in the nation, which have boosted market development, China is one of the important markets for heat pumps. The vast country of China is formally divided into five main climate zones, each with its own set of thermal design specifications. The enormous market opportunities can be met by creating heating solutions specifically for these areas.
Segmentation
By Type
Air-to-Air heat pump
Air-to-Water heat pump
Water Source heat pump
Ground Source (Geothermal) heat pump
Hybrid heat pump
By Capacity
Up to 10 kW
10 – 20 kW
20 – 30 kW
Above 30 kW
By Refrigerant Type
R410A
R407C
R744
Other Refrigerants
By Application
Residential
Commercial
Industrial
By Region
North America
Europe
France
UK
Spain
Germany
Italy
Rest of Europe
Asia Pacific
China
Japan
India
South Korea
Rest of Asia Pacific
Middle East & Africa
GCC
South Africa
Rest of the Middle East & Africa
South America
Brazil
Argentina
Rest of South America